Sanctuaries and National Parks have been established all over India to secure the future of endangered species of flora and fauna by conserving them in their natural environments. More than 99 national parks, 40 tiger reserves and 450 wildlife sanctuaries, India has species of fauna and flora. Moreover Safari in the natural forest is exploration to observe the wildlife in its natural habitat. There are several sanctuaries and national parks in India that attract tourists. Lets taking a look at some of the best wildlife safaris in IndiaSanctuaries and National Parks have been established all over India to secure the future of endangered species of flora and fauna by conserving them in their natural environments. More than 99 national parks, 40 tiger reserves and 450 wildlife sanctuaries, India has species of fauna and flora. Moreover Safari in the natural forest is exploration to observe the wildlife in its natural habitat. There are several sanctuaries and national parks in India that attract tourists. Lets taking a look at some of the best wildlife safaris in India
1. Jim Corbett, SUttarakhand
2. Sasan-Gir Wildlife Sanctuary, Gujarat
3. Kaziranga National Park, Assam
4. Periyar Wildlife Sanctuary, Kerela
5. Bandhavgarh National Park, Madhya Pradesh
1 Jim Corbett, Uttarakhand
Jim Corbett National Park, is a part of the larger Corbett Tiger Reserve, a Project Tiger Reserve lies in the Nainital district of Uttarakhand. The land of Corbett is well known and famous for its tiger richness. It is established in the year 1936 as Hailey National Park. It is being India's oldest and most prestigious National Park. It is also being honored as the place where Project Tiger was first launched in 1973. This unique tiger territory is best known as the father who gave birth of the Project Tiger in India to protect the most endangered species and the Royal of India called Tigers. This is India's first national park and beyond doubt the most attractive Park in India. The Park is placed in the foothills of the Himalayas, in the midst of lush greenery and uneven mountains with varying heights, ranging from about 1300 feet to nearly 4000 feet. Corbett National Park is famous for its wealthy flora and fauna. Also the wild animals, reptiles and bird with many varieties of species enrich the Park and it is haven for bird watchers, wild life enthusiasts, environmentalists and nature lovers. Very rich in vegetation, if we take statistics there are about more than 51 different kinds of shrubs, more than 30 kinds of bamboos and over 110 different species of trees, apart from the greenish grass seen only in meadows. It is one of the best experience for wildlife safari in Jim Corbett, Uttarakhand.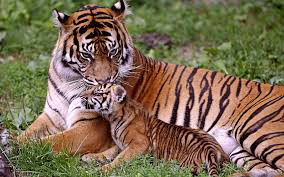 The Best Time To Visit
Winter Season – Within October to February
Monsoon – During July to September Months
2 Sasan-Gir Wildlife Sanctuary, Gujarat
Gir National Park is the only remaining habitat of the Asiatic lion, which is established in since 1884 (about 239 lions were reported in 1985). It is 1,739 ft.above the sea level.The Asiatic lion is slightly smaller than its African cousin. A large male lion of the Gir is quite a sight to behold. The best way to observe the big cats is, of course, in their natural habitats, at dawn and dusk, when they are on the prowl. The Forest Department does arrange lion shows every Sunday, where the tourists can watch prides of lions on the hunt. There are guided trips available, to watch these majestic animals from a very close range. Wildlife viewing in the Gir is best done, by driving around the forest. The best drives from Sasan are, to Baval Chowk and Kankai, to Chodavdi and Tulsishyam, and to Kamaleshwar dam. Though a sturdy car would do, a jeep is definitely more thrilling. The climat the Gir Forests are usually dry and thirsty. The greenery in the forests can be seen during the monsoon season. The summers, from April to June, are harsh with temperatures rising to 40°C. the winters, from December to February are cool and comfortable. A distinct belt of vegetation is found along the main rivers and streams. Species like the Jambu, Karanj, Umro, Vad, Kalam, Charal, Sirus and Amli are found here. Sasan Gir is also home to the Nal Sarovar Bird Sanctuary and a handful of temples like Tulsi Shyam Temple and Temple of Mallinath among others. To explore some nice places to eat out and enjoy, you will have to drive to Junagadh about a 100 km from Gir.
Best Time To Visit
Wildlife enthusiasts can visit Gir park throughout the year, but the best period to visit the Gir Sanctuary is between the months of November and June.
3. Kaziranga National Park, Assam
Kaziranga National Park a world heritage site is famous for the Great Indian one horned rhinoceros, the landscape of Kaziranga is of sheer forest, tall elephant grass, rugged reeds, marshes & shallow pools. It has been declared as National Park in 1974. covers an area of 430 Sq kms along the river Brahmaputra on the North and the Karbi Anglong hills on the South. It is inhabited by the world's largest population of one-horned rhinoceroses, as well as many mammals, including tigers, elephants, panthers and bears, and thousands of birds.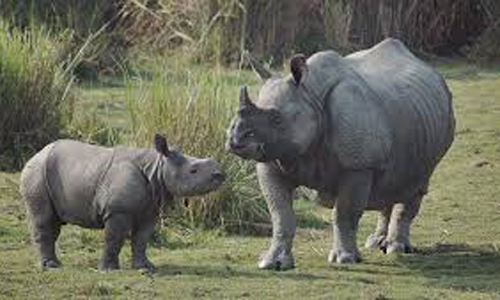 This park serves as a perfect place for vacations for family and friends for whom the park offers a plethora of attractions and activities to enjoy. Kaziranga National Park has 4 zones where one can enjoy the sight of the one-horned rhinos along with other exotic animals and mesmerizing landscape in a jeep safari. Kaziranga shares its boundary with the Brahmaputra River which makes it an active place to sight different species of birds that inhabit the park, and thus, one has the chance to relish bird watching activity here. In Kaziranga wildlife safari you can make your stay comfortable in any of the resorts that are located a short distance away from the park. One can find many luxurious hotels and resorts to stay around the national park which are about 30 – 40 minutes driving from the entry gate outside the park.
4.Periyar Wildlife Sanctuary, Kerela
Periyar Wildlife Sanctuary, locating in Thekkady, KERALA. It is very famous among tourists as elephant and tiger reserve. This park is commonly called as the Periyar national park. the Periyar National Park and Wildlife Sanctuary is considered as the most protected area for the elephants and the tigers. The park covers 357 square miles of land. The park lies in the middle of cardamom hills. The north and the east borders of the park are covered by the mountains. The west part of the park is bordered by a plateau. Apart from Elephants, the other animals can be found in the Periyar Sanctuary are, Wild Pigs, Sambar, Gaur, Mouse Deer, Dole or Barking Deer, Indian Wild Dog and Tiger. The major four species of primates are also found at Periyar – the rare lion-tailed macaque, the Nilgiri Langur, Gee's Golden Langur, Common Langur and Bonnet Macaque. Periyar is also being considered as the habitat of the elusive Nilgiri Tahr, which can rarely be seen but commends its presence. Periyar wildlife sanctuary is famous for its rich flora and fauna. The forest here is tropical evergreen and moist deciduous. You can see here teak, rosewoods, sandalwoods, mangoes, tamarinds, banyans, bamboos etc. Lots of activities are organized inside the Periyar Wildlife Sanctuary. You can enjoy the wildness with a trekking programme. The programme is arranged from morning 7 am to evening 3 pm. Other activities are jungle patrol, bamboo rafting, jungle inn, jungle camp, border hiking etc.
Best Time To Visit
 The best time to visit the Periyar Wildlife Sanctuary is from October till June. After the heavy monsoon it will be difficult to sight the wild animals as there will be enough water inside the jungle itself.
Tourists Attractions
The wildlife lovers and the tourists can enjoy excursion at the zone of the sanctuary and can visit Cradomom Hills and Pandalom Hills . Periyar Lake, Kumily, Mangla Devi Temple, Pullumedu are few more tourists attraction in Periyar and yes, you must visit it once.
5.Bandhavgarh National Park, Madhya Pradesh
Bandhavgarh National Park is situated in the Umaria district of Eastern Madhya Pradesh (Central India).BhandavgarhNational Park consists of a core area of105 sq km and a buffer area of approximately 400 sq.km. Bhandavgarh National Park is known for the Royal Bengal Tigers. It is also known for its spectacular collection of flora and fauna.Bhandhavgarh National Park was the former hunting preserve of the Maharaja of Rewa and at present is a famous natural hub for white Tigers. now a major attraction around the world's zoos. Bandhavgarh National Park has three major zones named – Tala, Bamera and Magdi. Though, the park is majorly inhabited by white tigers but it also provides shelter to several other Indian wild species like Cheetals, Langurs, Bison and Sambars. Jungle safari drive is the main activity to do at Bandhavgarh. Here safaris are done on open jeeps with guide. Bandhavgarh wildlife safari is very popular. Here two types of jungle safaris are offered to tourists i.e. jeep safari and elephant safari. Their are about 250 bird species in Bandhavgarh national park forest area. Their are about 138 residents birds, 26 local migrant birds and 86 migrant birds in Bandhavgarh. It is said that India's first white tiger was found in forest area of Bandhavgarh due to which it is also called white tiger country. More than 28 species of mammals and 250 species of birds & 70 species of butterflies are found in Bandhavgarh National Park. Apart from the tiger we also found the Common Langurs and Rhesus Macaque represent the primate group. Carnivores include the Tiger, Leopard, Asiatic Jackal, Sloth Bear, Ratel, Bengal Fox, Striped Hyena, Jungle Cat. Mammals such as Dhole, the small Indian Civet, Palm Squirrel and Lesser Bandicoot Rat are seen occasionally. Jwalamukhi Temple,Bandavgarg Fort, Badi Gufa, Three cave point are few more tourist attraction you must visit here.
Best Time To Visit
Bandhavgarh national park is open for visitors from 01-October to 30-June. Usually most of the tourist arrival has been registered from November to April month.