India is the most diverse country with many mountain and beautiful beaches; this become must visit the destination for adventure sports lovers. India is fast emerging as a most favourite adventure destination for travellers. Because of great diversity and beautiful nature, it became the perfect destination for adventure sports lover.
In last few years India has become one of the best place for the adventure lovers. Sikkim, Assam, Nagaland at the East side Jammu & Kashmir, Himachal Pradesh at the Northern part; Goa and Maharashtra at Western part and Kerala at the Southern part are best places for the adventures. India's different region has different taste of sports. Here we have the top 5 adventure sports & destinations in India.
1. Scuba Diving–

Dive into crystal clear water and experience the beautiful view of coral gardens and fascinating basalt formation which will stay in your memories for a lifetime. Scuba Diving is one of the best sports to experience the beautiful underwater sea world. Scuba Diving in India is very famous in Lakshadweep and Karnataka.
Netrani Island,Karnataka–
Netrani Island is the island of India in Arabian sea. Its about 19 kms from murudeshwar beach and the approach is via a boat. Netrani Islands are excellent for Scuba diving as the water is crystal clear and visibility extends to 25 – 30 meter Underwater.
2. Paragliding–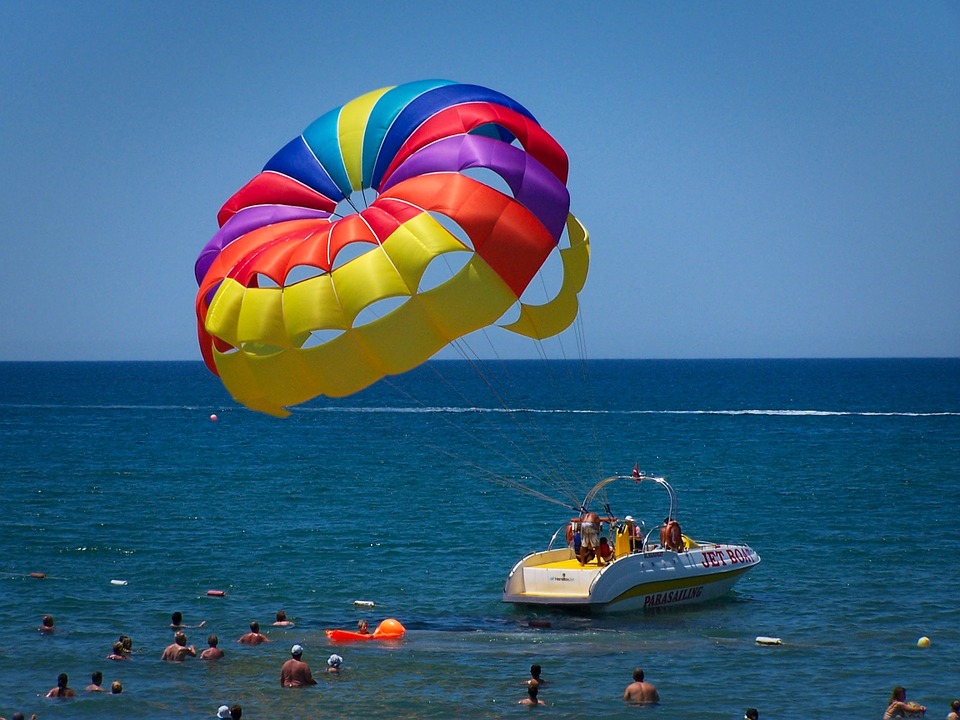 Paragliding is the most popular adventure sports across the world. Paragliding include a free foot launched aircraft, where the pilot seats on a harness suspended​ from a glider. The flying time of the paragliding is 30 to 40 minutes depending upon the weather conditions.
Gangtok–
Gangtok is becoming very famous for their paragliding. In Gangtok the paragliding Tandem flight are available. In Tandem flights both medium and high fly options are available. In medium fly, you will fly at an altitude of about 1300 to 1400 meters. The flying​ time is 5 – 10 minutes. In high fly, you will at an altitude of about 2200 meters. The flaying time is 20-30 minutes.
Medium fly— Rs.2500 to 2700 per person.
High fly— Rs.4500 to 5000 per person.
Kamshet, Maharashtra–
Kamshet destination located about 110 kms from Mumbai and 46 kms from Pune.Kamshet paragliding has 3 different types of flight they are Classic tandem, Acro tandem and Instructional tandem. For more thrill and excitement Acro tandem is best for adventure lovers. Acro tandem involved extreme high altitude acrobatics fly. The flying base is at Kamshet near Lonavala. You need to report Hotel Rangoli for paragliding. The flying time is 10 to 20 minutes.
Paragliding cost— Rs.3000 to 3500 per person.
3. Bungee Jumping–

Bungee jumping in india is the most famous adventure sport in young sports lover. Bungee jumping is an activity that involves jumping from tall platform while connected to a large elastic cord. Bungee jumping give you the thrill and fear at the same time.
Rishikesh,Uttarakhand–
Rishikesh is the most famous bungee jumping destination in India. Bungee jumping in Rishikesh is one of the best jumping experience you have ever feel. Rishikesh has India's largest bungee jumping with 83 meters high. Rishikesh also has India's most extreme giant swing (83 meters) and Asia's longest flying fox (length:1 km; Speed:140-160 kmph).
Bungee Jump- Rs.3550 per person.
Della Adventure Park,Lonavala–
Della Adventure is India's largest extreme adventure park. In Della Adventure there is more than 50 activities to enjoy. You can experience India's only Swoop swing(100 ft.), India's longest Flying Fox(1250 ft.), 5 kinds of zorbing and 700cc Yamaha raptor ATV at Della Adventure. Della Adventure Park is one of the best getaway near Mumbai and Pune.
4.Water Rappelling–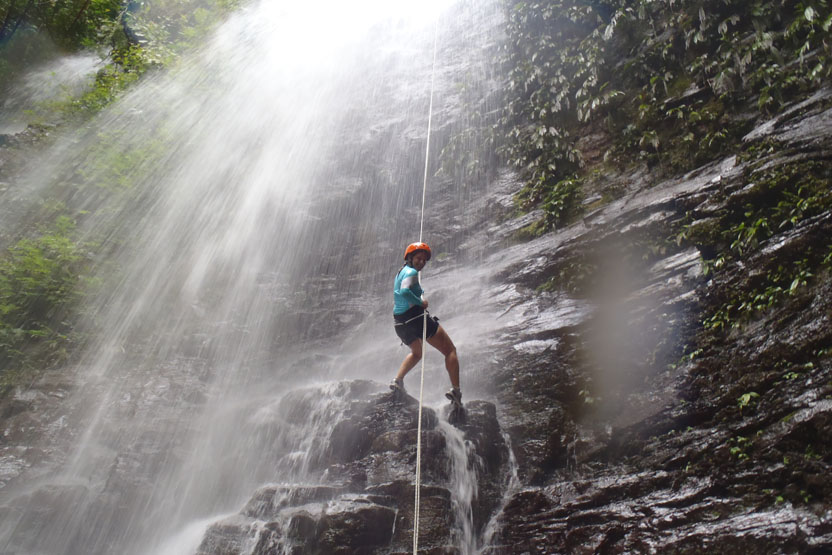 Water Rappelling is an activity where you descent down a huge rock path along with the cascading waterfall. The ropes and harness attachments that assures your safety. Water rappelling is most extreme experience for adventure lovers. Rappelling performed on a rock face or slope. Water rappelling is the modern version of rappelling with added rappel through a high-speed waterfall.
Vihigaon Waterfall Rappelling,Kasara–
Vihigaon Waterfall situated near kasara. In monsoon, this waterfall offer an excellent opportunity to Water rappelling for all those adventure buff who want action packed fun for the weekend. The rappelling performed in Ashok Waterfall which is 12 km distant from Kasara.
Repelling Cost-Rs.900 per person.
Extra Rapelling-Rs.500 per person.
5.Mountain Biking–

Mountain Biking is the sport of riding bicycles off-road, and on the difficult hills using specially designed mountain bikes. Mountain Biking is so difficult that need so much balance and concentration. Cross country is the most popular, and involves rides on mountain trails. The popularity of mountain biking is increasing rapidly in Indian youngsters. Many Mountain Biking event organised in India like MTB Himalaya,MTB cycling championship.
Sikkim–
Sikkim's recent best adventure product is mountain biking with the high downhill and dramatic terrain of Sikkim Himalayas offers exciting biking trails to the adventure lovers. Bogdogra-Gangtok(134 kms), Gangtok-Martam Village(35 kms), Darjelling-Tiger Hill, Darjelling-Bogdogra(134 kms) are some famous mountain biking routes in Sikkim.
Ladakh–
Ladakh Mountain Biking roads are one of the longest routes with more than 400 kilometers. Mountain Biking in the Ladakh region from Manali to Leh is high altitude routes. The place Rohtang Pass is 3980 meters high from the sea level. Baralacha pass at 4892 and Tanglang Pass at 5360 high from the sea level. The Sham valley trek, Lamayuru alchi are some routes for Mountain Biking tour in Ladakh region.