The majestic misty hills, the dense forests, the verdant landscapes are calling out to you, beckoning you to quench your thirst for wanderlust this monsoon. In the city of Mumbai, the season makes its presence felt through heavy downpours, traffic jams, and pandemonium. Escape the chaotic city life and explore scenic locations in and around Mumbai. After all, the monsoons have further beautified them for trekkers like you! Here are 10 beautiful locations that deserve a trekking adventure place near Mumbai this monsoon.
TREKKING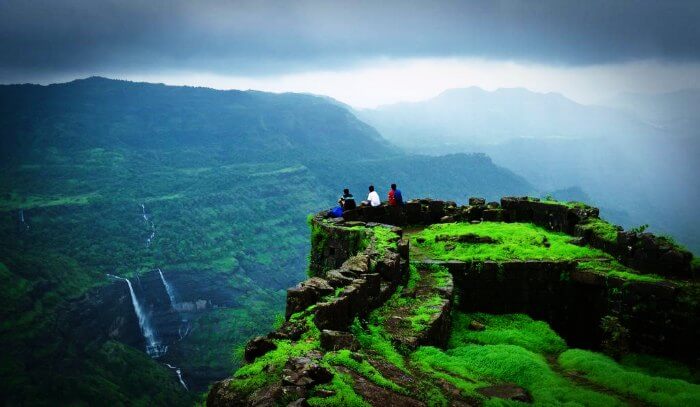 Nane Ghat: It is a mountain pass in the Western Ghats range near Junnar in Pune district of Maharashtra, India. Indulge in amazing experiences of treks near Mumbai & take a moment to fall in love with nature. Naneghat is one of the most scenic routes to walk-in. It has large cave at top where you can take rest while Trek. It can take 2-3hours trek to reach top. It is historical place near Mumbai. Beautiful landscape, trek through the forest. Moderate climb till the foot of the mountain after which it is and adventurous walk up through gushing waterfall and stones. Best thing is when you reach on the top you will feel its heaven on earth.
Malshej Ghat: The green mountain pass of Malshej Ghat. It is a popular spot with hikers and picnickers, especially during this season with nature being at its best. Exotic migratory flamingoes choose Malshej as their monsoon abode. Trekkers will enjoy the waterfalls and fog that covers the region. Once you are done with the trek, relax, have a hot bhutta and enjoy the climate. It is one of the best trekking near Mumbai.
Rajgad Fort: The treacherous approaches, zig-zag narrow paths, the deceiving double-walled shield of its fortifications, massive Maha Darwaja and Chor Darwaja tells the tale of the Fortress of the forgotten empire. The beauty of the fort and the surroundings is mesmerizing. The sunrise from Balekilla is a must watch. Indulge in the most adventurous place near Mumbai.
Kothaligad (Peth) Fort: A very good option for one day trek near Mumbai, Kothaligad also called kotligad or kothligad or peth cha Kila is a small Fort approx. 3100 feet high, situated to the east of Karjat near Karjat-Murbad. Peth is the great place to trek near Mumbai there is a small temple and large cave at the base and a chimney like tunnel at the top of the fort.
Harihar Fort: Harihar, also known as Harsh gad is a beautiful trek located 60 kms away from Kasara. To experience thrilling 80 degrees climb in Sahyadri's. Being one of the challenging treks in Maharashtra, this location offers great trek route and splendid natural beauty!  It stands at an elevation of 3675 feet above sea level. There is a small temple of Lord Hanuman and Lord Shiva on the plateau. A small pond is there in front of this temple.
Mahuli Fort: Let's visit the highest point of Thane District Mumbai Maharashtra giving you a bird's eye view of the landscape below. The trek route passes through dense tansa wildlife sanctuary, waterfalls and dense Forest. It is one of the exciting treks near Mumbai. The Mahuli Trek begins at the Mahuli Fort base. Here you can visit the local temple where you will find a map of the trek.
Peb fort: (or Vikatgad fort trek) is a popular trekking route near Mumbai. This trek route passes through splashing waterfalls, green hills and toy train route of Matheran. It shows stunning natural beauty. It stands at an elevation of 2100 feet above sea level. This is one of the most beautiful one day treks near Mumbai, especially in monsoon. To avoid crowd at hill stations like Matheran, nature lovers must visit this fort. The fort derives its name from the Goddess 'Pebi'; 
Rajmachi Fort: Are you looking for a place where you can experience most of nature's gifts in just a one-day trek near Mumbai? If yes, Rajmachi Fort trek is waiting for you. Rajmachi fort, a historical fort near Mumbai amidst the rugged hills of Sahyadri is a popular destination for nature lovers, travelers, and trekkers. A trek which blesses you with lush green mountains, numerous waterfalls, deep valleys, beautiful fort, amazing trails, flowing river, vast plateaus, village life, water reservoir and much more.
Kalsubai Fort: Kalsubai is the highest peak in Maharashtra and is one of the most enjoyable treks near Mumbai. The route to the top is well marked and many trekkers and pilgrims visit to reach the peak which has a small temple of Kalsubai. During monsoon the peak is like being in heaven and is covered with fog and has strong winds blowing. But the best time to visit is during September just after monsoon when there are thousands of wild flowers blooming everywhere and the climate is just perfect for a trek.
Lohagad Fort: – means "Iron Fort" in Marathi as it is situated in Lonavala region. Lush green carpet and small wild flowers along the route welcomes you. It is simple and easy trek near Mumbai for all age group. Beware of monkey too. Loaded with a rich historical significance near Mumbai, the Lohagad trek surely deserves a place in your bucket list this season!